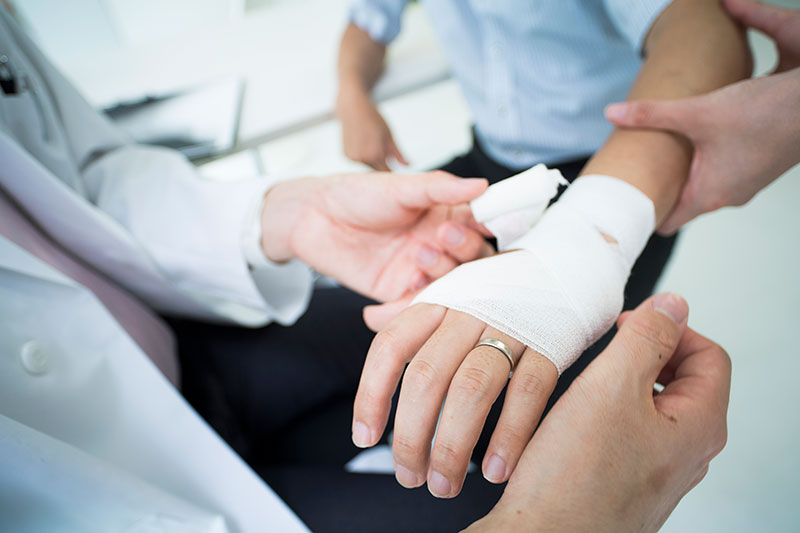 Wound care: Becoming specialized without residency graduation
Wound care is the subspecialty that provides expertise in the management of acute and chronic wounds.  The etiology of these wounds include pressure, arterial, venous, lymphatic, diabetic, traumatic, burns, autoimmune and several other causes.  Specialists in wound care focus on evaluating and managing wounds using appropriate interventions and control of co-morbid conditions.  These specialists use both surgical and medical skills to the manage wounds. 
It is estimated that over 6 million people in the United States are afflicted with a chronic wound.  As the population ages and the incidence of diabetes increases the demand for physicians skilled in wound care continues to rise.  Wound care specialists are trained in managing complex wounds and in leading multidisciplinary teams to deliver comprehensive care.  A successful wound care physician is as adept with a scalpel as she is in understanding the mechanisms of a medication that inhibits wound healing. 
There are several paths to becoming an expert in wound care and physicians can become a specialist in this area after two years of residency training.  Wound care is not yet a recognized board specialty and there are just a handful of fellowships in existence.  Many physicians from the backgrounds of general surgery, vascular surgery, internal medicine, plastic surgery, emergency medicine, and family practice become specialized in wound care.  Neither the American Board of Medical Specialties (ABMS) or the American Osteopathic Association (AOA) yet recognize wound care as a specialty or subspecialty.   This offers an opportunity for those who have not graduated from residency to serve as experts in a needed area of medicine and one day become part of a new board-certified specialty. 
Wound care: a future board-certified specialty?
In the coming years wound care will become a recognized board certification. For those already in practice residency as a requirement for certification will likely be waived (this is like years ago when emergency medicine first became a board-certified specialty). 
If you are physician that found yourself without a categorical position or you were forced to leave residency before graduating due to personal or family reasons wound care could be the specialty for you.  You are also not alone in leaving residency a recently published study found that 23% of women in their 4th year of general surgery residency dropped out while slightly less men at 17% quit.  Wound care is one very viable option that is a clinically and financially rewarding career and, in the future, will become a chance for board-certification for those that left residency. 
What is a wound care practice like?
Most physicians in wound care practice in an outpatient setting either in a nursing home or rehabilitation center while some work in hospital outpatient based wound care clinics.  The daily practice is one that might start at seven or eight o'clock in the morning and finishes the day by four or five. There is no emergency call, no working at night, and no weekend call.  The patients seen are under the care of their regular physician or admitting physician.  A wound specialty functions as a consultant and co-manages the patient with others.  If she is based in a nursing home, she will work closely with an entire team to ensure factors that contribute to wound healing are being addressed.  This might mean having a dietician, a physical therapist, a certified wound care nurse, and other physicians involved to achieve healing of a chronic wound.  The specialist physician has the expertise to lead the team and understands when to perform surgical debridement, what type of dressing or topical medication to use, when to change pressure relief devices, or when to use a compression wrap.  Leadership, empathy, and skill as a proceduralist make for success in wound care. 
Vohra Wound Care pioneered bringing the specialist to the patient's bedside.  Our practice cares for patients with acute and chronic wounds in facilities across the country.  Some of our most successful physicians are those who left residency and found themselves unsure where to go next. With a full medical license and at least two years of residency training these physicians joined Vohra and received the necessary training and skills to become specialized in wound care.  They have also been able to pass a national examination to become Certified Wound Specialist Physicians (CWSP). 
Our physician's daily work is rewarding, they build relationships with their patients, and with their colleagues, and they make a significant impact on the millions of people desperately in need of wound specialists.  The practice routinely sees patients with chronic wounds that have been present for years and we are able to heal these wounds.  These patients are happy and grateful to our doctors.   These often frustrated and neglected patients no longer deal with painful daily dressing changes, or the for-example stigma of having to walk around with a bandaged leg that gives off a bad odor.   
          Vohra offers a pathway to a new specialty in medicine, we provide a one-year fellowship in wound care for physicians that join our practice.  This fellowship is a rare opportunity and with faculty who have 20 years of experience.  Only a small handful of wound care fellowships are in existence and Vohra's is the largest outpatient fellowship in the US.  
Are you interested in joining a clinical specialty that allows you to make a direct impact on a population in need and to see the results of your care and interventions?  With Vohra you can have a balanced life and a long-term rewarding career in medicine.