Why Physicians Appreciate Vohra's Electronic Medical Record (EMR)
Although most people who pursue medicine do so to help people, the reality of being a physician often includes ample administrative work, such as data entry and documentation in an Electronic Medical Record (EMR). Although using an EMR has the potential to streamline medicine and improve clinical outcomes, current systems are often seen as burdensome and poorly designed.

Many physicians report that they spend a significant portion of their time with patients filling out the EMR and that they take this work home with them and complete data entry in the evenings. 

One research study found EMR programs to be a source of burnout, frustration, and stress for physicians.
Editor's Note: Physicians interested in learning more about a career in wound care are invited to explore our open opportunities. Click here to learn more.

Another study found a strong association between EHR usability and workload among US physicians, with more favorable usability associated with less workload. The connection between burnout and EMR use was particularly challenging among general and specialty surgery, radiology and emergency medicine specialties.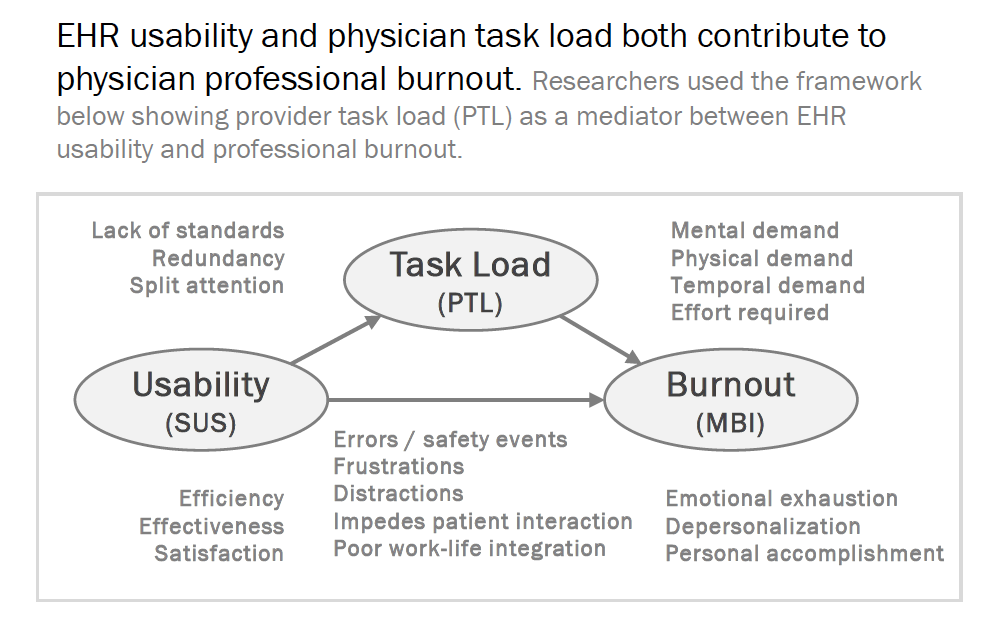 Part of the problem with digital documentation is that many EMR systems aren't built for specific physician needs or designed with adequate input from clinicians. This can lead to unintuitive systems that don't support proper billing or address specialty-specific needs.


Physicians who practice with Vohra Wound Physicians, the nation's largest and most trusted wound physician group, do not have this problem. Vohra's proprietary EMR was purpose-built by and for wound care physicians. Vohra's EMR is intuitive, efficient, niche-specific, and user-friendly, and it leads to actionable insights about patient care and treatment options.

Continue reading to learn more about how Vohra's EMR makes physicians' jobs easier.
The Value of the EMR
The EMR, when properly designed and utilized, offers significant value to physicians and their patients. EMR systems streamline documentation and enable patient files to be easily accessed and updated. They can also improve the billing process and help physicians properly complete coding.
More broadly, EMR systems can be used to identify patient and treatment patterns to inform medical care and improve clinical outcomes. Notably, the EMR has been celebrated for reducing instances of adverse drug events by eliminating errors related to poor handwriting and by alerting physicians of potential negative interactions.
However, these benefits can only be realized if EMR systems are effectively designed and utilized by physicians. Currently, many find EMRs to be tedious, counterintuitive, and deleterious to physician-patient relationships. One valuable way to address physician frustration is by developing specialty-specific EMR systems, such as that designed by Vohra Wound Physicians.
"Vohra has taken away a lot of the headaches I used to have in practice. Our electronic medical record, for example, is well-tailored to what we need as wound physicians. The EMR I used when I practiced in the hospital was made to service a hundred different types of specialists."
- Dr. Justin Mahida, MD, General Surgeon who transitioned to Vohra
Vohra's EMR
Vohra's proprietary EMR was built by physicians, for physicians. It is intuitive, specialized, and proven to ease administrative burden and support clinical improvements.
"Of the top 10 reasons why I transitioned and was fortunate to begin this job with Vohra was the EMR.
I've used EMRs in the past and Vohra's is very user-friendly."
- Dr. Brian Burns, MD, General and Plastic Surgeon who transitioned to Vohra
Quick
Vohra physicians report spending minutes per patient on EMR data entry – and less if it's a follow-up appointment. This enables them to spend more time with patients and less time charting. Quick documentation time also means that Vohra physicians do not have to finish their notes at home, improving work-life balance.
"This is definitely one of the best EMRs
I've had in terms of documentation time."
- Dr. Brendan Michel, MD, Family Medicine physician who transitioned to Vohra
Accurate
Vohra's EMR system was designed by physicians with wound care in mind. It is tailored for easy documentation and accurate coding so that physicians do not need to spend unnecessary time reviewing or adjusting notes.
"The EMR is very focused to what we do."
- Dr. Rizwan Kalwar, MD, General Surgeon who transitioned to Vohra
Innovative
In addition to seamless documentation, Vohra's EMR also provides treatment insights and ensures accurate, timely billing. Using Vohra's EMR facilitates ongoing insights and improved clinical outcomes. Vohra's support team is also available to answer any EMR questions that physicians may have.


Vohra's EMR now integrates with PointClickCare, the standard in post-acute centers.
"Vohra's proprietary EMR is so well-designed that it minimizes the amount of time spent away from the patient. It assists with billing, coding and documentation. It's also fully supported by an incredible group of people that are available almost 24 /7 if you need help. The best thing about Vohra's EMR is that it absolutely maximizes the efficiency of your rounds."
- Dr. Aaron Blom, DO, General Surgeon who transitioned to Vohra
"I started in medicine when paper charts were still very common, and I saw the transition to very bad electronic medical records and how that added hours to your day. Vohra's EMR is fantastic because it's designed specifically for what we do. It makes better use of my time, and I feel safer and supported in how I'm working with patients."
- Dr. Julie Hutchinson, MD, General Surgeon who transitioned to Vohra
Vohra's EMR is quick, accurate, and innovative, allowing physicians to focus
on patients, not paperwork.