The first of November marks the start of the holiday season that runs through to the New Year. It is a dangerous time for the elderly — many will experience hospitalization, develop wounds, and require skilled nursing care for the first time in their lives.
Falls are the leading cause of unintentional injury in the 65-and-over population. Every year, families come together for the holidays and visit with elderly parents or grandparents, often for the first time all year. Sadly, many of these visits turn into a trip to the emergency room when mom falls, or grandpa is found lying on the floor at home.
According to the Centers for Disease Control and Prevention's (CDC) injury reporting and tracking (WISQARS), there were a reported 2.9 million falls in the 65-and-over populations in 2017, the most current reporting year. Of these 875,000 resulted in hospitalization and the incidence is increasing (Figure one).
These falls often result in fractured hips, arms, ribs, and brain injury. Prolonged hospitalization and immobility can lead to a variety of secondary complications, including pneumonia, infection, deep tissue injury and other pressure injuries. Falls also lead to loss of mobility, decreased quality of life, anxiety about falling again, and depression.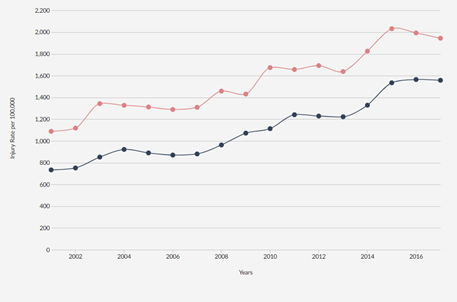 Hip fracture is the leading injury from falls, and 300,000 occur annually in the US, with three quarters occurring in women. This number is expected to triple by 2050. It has long been a commonly expressed fact that 30-50% of hip fractures resulted in death within one year of fracture (1-year mortality rate).
A recently published review in the World Journal of Orthopedics suggests rates are lower and shows there is new hope. Upon reviewing hip fracture registries from 36 countries, the authors found the 1-year mortality rate to be 22% globally and 21% in the US much lower than previously reported. Improvements in care and management of co-morbidities are likely the reason for this drop. Thirty-day mortality rates continue to remain around ten percent and fracture of the opposite hip within two years around five percent.
Falls can occur at any time during the year and do increase during the holiday season for a variety of reasons. Falls from height also increase during this time of year, and 1% of falls are due to "decorating-related injuries." This may seem small, but they do add up when we consider that over two million falls occur November to January.
Falls can occur at home, in the hospital or in the skilled nursing facility. Factors that contribute to falls are both intrinsic and extrinsic. As we age our balance and strength changes, vision changes, osteoporosis develops, vitamin D deficiency can occur, and numerous medications can cause dizziness or somnolence.
If grandma did fall at home this season and now is being discharged from the hospital to skilled nursing care, what do you look for to get her back on her feet? What do the Centers for Medicare and Medicaid Services (CMS) have to say about falls in nursing facilities?
Half of all nursing facility residents will fall each year, and one-third of those will fall twice or more. With 1 in 10 falls resulting in serious injury, falls are the leading cause of litigation in long-term care and are significant challenges when faced with often limited resources.
CMS defines a fall as:
A Fall refers to unintentionally coming to rest on the ground, floor, or other lower level, but not as a result of an overwhelming external force (e.g., resident pushes another resident). An episode where a resident lost his/her balance and would have fallen, if not for another person or if he or she had not caught him/herself, is considered a fall. A fall without injury is still a fall. Unless there is evidence suggesting otherwise, when a resident is found on the floor, a fall is considered to have occurred.
Steps to You can take to Help Grandma Prevent a Fall
In nursing facilities, F-tag 689 deals with accidents and falls are included in this regulation. Facilities have a duty to ensure all residents are adequately supervised and have a safe environment with adequate equipment to assist them. CMS recognizes that not all falls can be avoided. An unavoidable accident is defined as:
. . . an accident occurred despite sufficient and comprehensive facility systems designed and implemented to: Identify environmental hazards and individual resident risk of an accident, including the need for supervision; and Evaluate/analyze the hazards and risks and eliminate them, if possible and, if not possible, reduce them as much as possible; Implement interventions, including adequate supervision, consistent with the resident's needs, goals, care plan, and current professional standards of practice in order to eliminate or reduce the risk of an accident; and Monitor the effectiveness of the interventions and modify the interventions as necessary, in accordance with current professional standards of practice.

 
If your grandparent needs rehabilitation after a fall, it is important to review the quality rating of the facility, to see what their staffing levels are, to visit the facility, and to find out what type of physician experts that facility has available.
Do they utilize certified wound care physicians? Does their rehab have access to well-trained physical therapists and physicians specializing in physiatry? What expertise does the nursing staff have? Are they a center of excellence for a particular condition such as wounds or heart failure?
If a wound develops after a fall, it may first appear as a deep tissue injury (DTI), often mistaken for a bruise. These types of wounds are the result of prolonged pressure and often occur after falling alone at home and being immobile for several hours. DTI often hides or masks the extent of underlying injury, and the severity may not be realized for several days after the initial fall.
If your grandmother falls alone at home this holiday and can't get up for several hours, developing a pressure injury is a real concern. At discharge, look for a nursing facility with well-trained wound care certified nurses, an expert wound care physician on staff, and be vigilant to the risk of DTI.
If DTI has occurred, regular visits with a physician who is prepared to intervene with surgical debridement and other interventions are critical to preventing infections, sepsis, and rehospitalization.
This holiday season, if you visit your elderly relatives, take steps to prevent falls, and if a fall does occur, find the highest quality facility meets the goals and needs that your parent has and one that can help reduce the chance that they fall again.
Vohra Physicians get to spend the holidays at home with their loved ones, instead of on call or in the Emergency Room. Click here if you are a physician ready to make a change and have the freedom you deserve.
Skilled nursing facilities who partner with Vohra, have a physician on staff to help them deal with inevitable injuries and wounds that occur any time of the year.