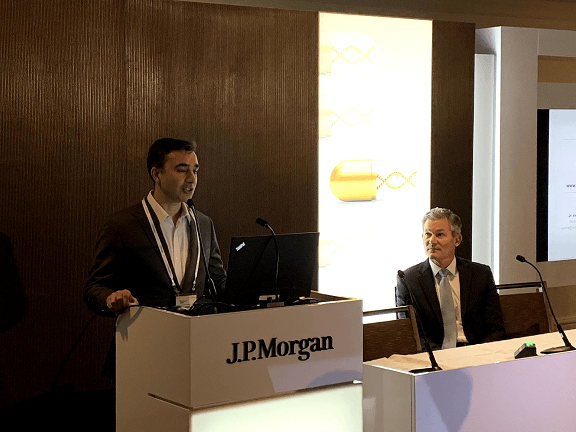 Vohra at JP Morgan's Healthcare Investment 2019
Author: Dr. Japa Volchok, DO
Jan 10th, 2019
Vohra Wound Care – the largest national post-acute physician group focused on healing wounds – was honored to be featured as a speaker at J.P. Morgan's Healthcare Investment Conference 2019. Now in its 37th year, the Conference brings together healthcare industry leaders looking to solve the toughest global health challenges – from cancer to cardiology – and, of course, wound care. It is considered the leading global forum for health care enterprises to share expertise and experience, and learn from each other as we seek to improve global health standards and delivery.
The audience learned about the Vohra Wound Care difference – including how we have developed proprietary technology including artificial intelligence predictive-would healing software, and a dedicated electronic health care system. Vohra's Founder and CEO, Dr. Ameet Vohra, shared how he has grown the company over eighteen years, from his own practice to nearly 240 clinicians working in 27 states. The President, John Sory, emphasized the importance of Vohra's physician-led approach, and the attractiveness of our model to physicians who can focus on healing and improving clinical outcomes, not administration. He shared the findings of the Lewin Group in their landmark wound care study – showing greatly reduced hospitalization and significant cost saving across the healthcare ecosystem. With high organic growth rates and the growing confidence of leading blue chip nursing home corporate partners, and the institutional support of Trivest Partners, Vohra is positioned to continue to grow as the global wound care knowledge and delivery leader.
Audience members from around the world were able to ask questions of Dr. Vohra and Mr. Sory, and focused on the value delivery Vohra provides, with a no-cost approach for skilled nursing facilities, and billions saved for Medicare to date by avoiding hospitalization due to wound care. Recognizing the growing market for wound care, as populations continue to age and diabetes increases, the attendees were excited to learn more about Vohra's proven delivery model. We look forward to seeing Vohra at the J.P. Morgan conference again in years to come.