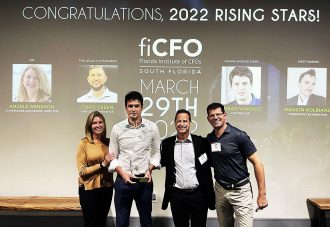 Vohra Wound Physicians is proud to announce that our Controller, Goran Vukovic, was honored at the Florida Institute of CFOs (fiCFO) Rising Stars celebration. The fiCFO's Rising Stars Award recognizes individuals who positively impact an organization through service, dedication, and perseverance. This prestigious award is a testament to Goran's diligence and exceptional service to our organization's vision and mission.
Goran brings his passion for finances every day. He is constantly challenging himself to reduce costs and improve pricing. Goran has also made significant contributions to our organization's business development and strategic direction.
"I am honored to work with Goran and see him earn the Rising Star Award from the Florida Institute of CFOs. He has exemplified strong perseverance and commitment to success over the years. He regularly supports the leadership team by sharing innovative approaches to solving challenges. His team's performance has risen with his strong investment in personnel development. He is an incredible leader," said Michael Evanoff, Chief Financial Officer.
From all of us at Vohra Wound Physicians, congratulations!